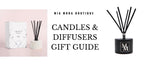 Candles & Diffusers Gift Guide 2023
Candles and Diffusers:
We love a good candle and like many, we are always looking for a new candle to enjoy.
Shop our best-selling scents from Volcano by Capri Blue to our signature Mia Moda scent. Whether you're treating yourself or gifting to a friend, we've got the perfect selection this Christmas for all your candle lovers! Available in-store and online at https://miamodaboutique.com/collections/gifts
There is a reason Volcano is a number #1 best seller worldwide. With the perfect blend of citrus and sugar notes, this candle is unforgettable! It also comes in a beautiful White opal Gilded Reed Diffuser! Perfect for the busy days when you still want to enjoy the scent without the worry of blowing out the candle! Candles are available in sizes 3oz, 8oz,15oz, and 19oz.
Our signature scent is our pride and joy! We designed this candle with our customers in mind.
After a long day relax and unwind with notes of Evergreen and spice it brings a warm and cozy scent for those cold nights in!
This candle is a twist to a classic fall favorite fragrance, Pumpkin Dulce! Fill your house with notes of white pumpkin, sweet gingersnap, and whipped vanilla. Perfect for the fall season. Available in sizes of 8oz and 19oz!
This scent embodies the spirit of the holidays! With featured notes of juniper berry, clove, vanilla, and forest woods.
It's a festive fan favorite and a little bit of something for everyone. We offer sizes of 8oz, and 19oz the perfect gift for you and your friends!
No candle is complete without a match to light it. These stylish match cloches come in handy and are so cute as decor! Crafted from hand-blown glass with 120 matches and a strike-on-bottle flint. Great to pair with a new candle as a thoughtful and exciting gift for the candle lover in your life. 
The Pura Smart Home Fragrance Diffuser allows you to customize your scent with premium, designer-grade fragrances with the convenience of your smartphone. Control the scent intensity from the Pura app, LED ambient night light, and customize a schedule for when you're home and away. This collaboration comes with the Pura System and 2 Volcano Capri Blue refills. A unique and fun gift for everyone on your list this year!